Visitors to SWAMP on November 10th will have the opportunity to take part in our bi-monthly Rope Workshop. This runs from approximately 2.30pm alongside the market and is proving to be an extremely popular way to spend a kinky Sunday afternoon.
The workshop is guided by a friendly bunch of very knowledgable twine afficianados –  Jahc and Mr & Mrs Rope, with the ever enthusiastic Tactile Mike, Tabby Kitten, and Parintachin helping out regularly.
The idea behind the workshop is a very simple one – a sharing of skills and learning and is very helpful for those who are just starting out and experimenting. There is no extra charge to attend once you have paid £3 to enter SWAMP.  All we ask is that you bring your own rope if you have any.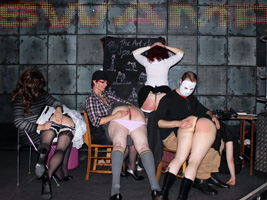 We had a great October SWAMP  thanks to Mistress Geo and 'pupils' who entertained a large crowd with an informative and fun demonstration. We hope they will be back soon with further lessons on BDSM topics. You can find out more about Mistress Geo by visiting our Links section. The photos shown here were taken with our permission by scene photographer Funseeker_2013. Photography is strictly controlled at SWAMP and we do not allow any unauthorised cameras (including mobile phones) in the venue.